"Prayer is the Fuel for Spiritual Growth."
How does this image appear to you? Can you decipher the mystery of perception hidden in it? Perhaps, you would also have deciphered it in the manner as other people did.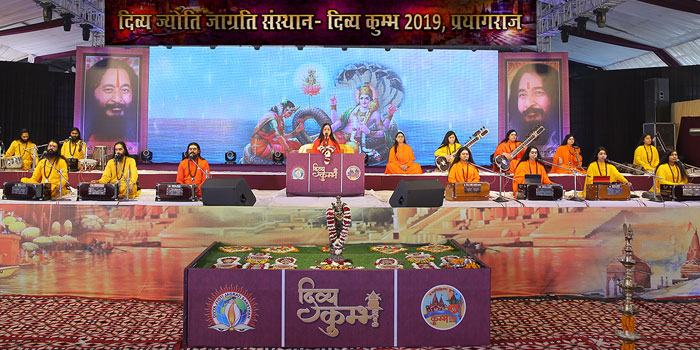 Prayagraj is considered as one of the greatest pilgrimage having deep spiritual significance where people participate in ritualistic bathing ceremonies with the belief that it cleanses their souls and leads to salvation. In order to unravel the mysteries of spirituality and to connect…
Religion is realization of God. This profound statement of Guru Ramakrishna Paramhans shook the soul of Narendra Nath (Later on became famous as Swami Vivekananda). He was dumbstruck at the thought of direct perception of Lord. He was longing for the same and when he stumbled upon thi…
In the ongoing series of events at Kumbh Mela at Prayagraj, representatives of Divya Jyoti Jagrati Sansthan participated in the 'SHE- Global summit' held on 28 January 2019, where delegates from various religious organisations, and dignitaries from around the world were present.
The Drug Abuse Eradication Program (Bodh) initiated under Divya Jyoti Jagrati Sansthan founded/mentored by His Holi…
KARNAL: In an effort to create awareness about the on-going Violence Against Women (V…
To sensitize and inspire young minds, Divya Jyoti Jagrati Sansthan organized a power packed "Youth Drive - SAM" on 20th January, 2019, at Kumbh Mela Prayagraj.
Youth are filled with tremendous and towering ambitions. Their energies, inventiveness, character and orientation d…
| | |
| --- | --- |
| STAY CONNECTED | MOBILE APPS |