"Experience the Light of Knowledge Illuminating Within You."
The feeling and realisation of 'Oneness' is actually a spiritual state, which one acquires only when he/she undergoes a set of discipline or mode called 'Self-Realisation– Brahm Gyan'. Only after initiation into this eternal spiritual science through the grace of a genuine holy Guru...
It's the classic Bollywood script. A young boy wearing specks is sitting on his study table, seriously studying for his examinations. His mother comes, caresses him, and says, "Oh dear! You have been studying since morning. It's lunch time. Come on, take some rest, and have lunch.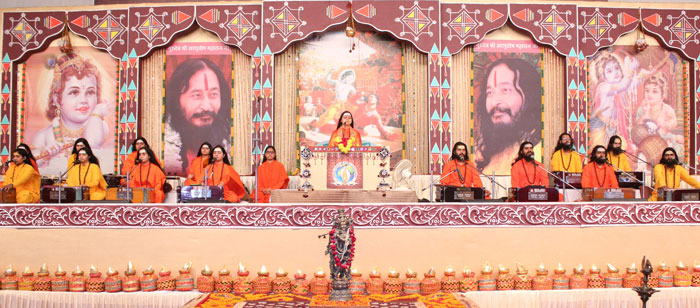 Another attempt in the same direction was made at Jaipur from Aug. 27 to Sept 2, 2016 when a grand scale Shrimad Bhagwat Katha was organized by DJJS. A dutiful team of devotees were seen on the stage along with Sadhvi Vaishnavi Bharti Ji, preacher disciple of Shri Ashutosh Maharaj Ji (founder and Head of DJJS) at the 7 day long program.
In order to encourage all disciples towards their holy mission of World Peace and to attain the highest level of discipleship, DJJS organized a program of Monthly Spiritual Congregation on September 11th, 2016 at the divine land of Nurmahal Ashram.
The seven day Bhagwat Katha program, starting from 5th to 11th September, 2015, was marked by the audience pouring in from all corners of Delhi. The program was further graced by the presence of distinguished guests. Sadhvi Aastha Bharti Ji lucidly narrated the stories from Bhagwat Puran.
Manthan was invited by Maharaja Agarsen community trust to celebrate Maharaja Agrasen Jayanti on 6th Sep'16.
This age old saying proves to be so true in case of Children who are often metaphored...
STAY CONNECTED