Since ages, India has amalgamated the wealth of knowledge in the form of holy Vedas, scriptures and has emerged as the spiritual lighthouse for the world. India has been the flag bearer of spirituality in the world. Since ancient time, human beings across the word used to seek answers to their spiritual queries in India. We have valued our culture and tradition ever since the beginning and have preserved it beautifully for our future generations. We can never forget our culture and traditions as they are embedded in us and an inseparable part of us.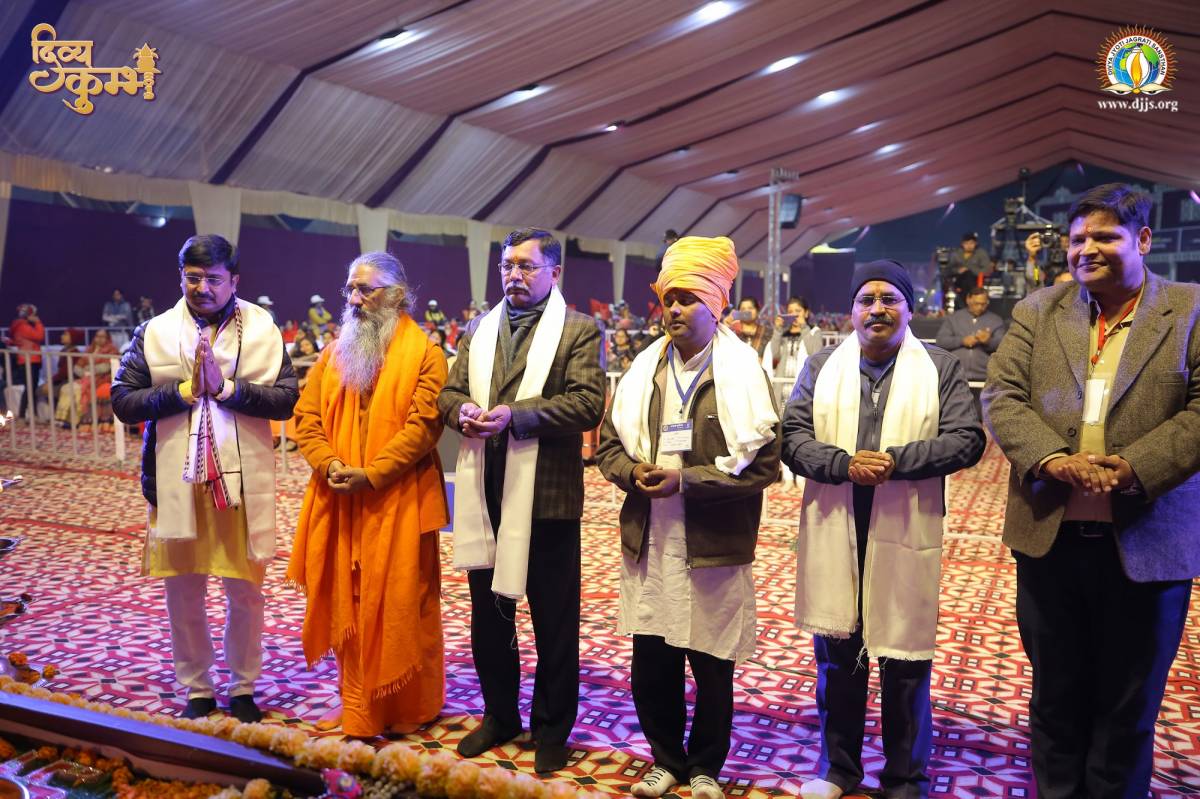 To resurrect Bharat in India, Divya Jyoti Ved Mandir in association with Divya Jyoti Jagrati Sansthan (DJJS) presented a Divine Play on 29th January at Kumbh Mela, Prayagraj. This special play on "Bharat se India Tak" was dedicated with the aim of preserving our great Vedic Culture and Sanskrit Language. DJJS Representative Sadhvi Tapeshwari Bharti Ji explained that today world is changing at an exponential pace and amidst digital revolution; humans have lost touch with self. It is the BHARAT which carries not only our origin but also the rich origin of our scriptures and royal heritage which made it the Jagadguru of the World. The sages, scientists and intellectuals from this land are bringing the new direction to the world till date and the whole world is witnessing it.
The play beautifully depicted the importance of preserving cultural heritage and Sanskrit language. Various efforts were made to realize the importance of speaking Sanskrit language. The play successfully presented the different phases across eras as how our Bharat changed to India and how we all can make it True Bharat again. The play mesmerized the audience and developed in them a sense of responsibility to maintain India's great image by moulding their lives in true spiritual and cultural customs with piety of mind and heart. As Swami Vivekananda once said,
"I used to Preach India, now onwards I would Worship India."
Audience applauded the efforts of Divya Jyoti Ved Mandir for rejuvenating the spiritual heritage of India by its humanistic, practical, rational and scientific interpretation of it and bringing a new awareness of our spiritual inheritance. Eminent Guests: Dr. Narender Singh Gaur (Ex- Higher Education Minister, Senior BJP Leader, Prayagraj), Dr. Kritika Aggarwal (Bhajpa Mahila Maurcha Mantri, U.P & Coordinator - Beti Bachao Beti Padhao), Mr. Abdul Rafiq (Director, St. Peters Academy School, Govindpur, Prayagraj), Mr. Ved Prakash (Cultural Program Coordinator, Sanskar Bharti), Dr. Nitin Aggarwal (Managing Director, Bliss Ayurveda Pvt. Ltd).