Divya Jyoti Ved Mandir's (DJVM) expeditions are an attempt to understand the prevalent cultures, rituals, traditions and significances that are still practiced and preserved since time immemorial. DJVM's recent expedition to Dakshina Bharata is the venture to amalgamate the multifarious Vedic practices & unifying it back to its original Vedic core of existence.
Vedic Sangoshthi, a unique series of Vedic meets with Vedic scholars and enthusiasts initiated by DJVM globally is aimed towards preserving, promulgating and expanding Vedic values and its richness through collaborative efforts.
In this series, on 12th November, 2022, a Vedic Sanghoshthi was organized at Dr. B. R. Ambedkar Samudaya Bhavan, Mallasandra, Bengaluru, Karnataka in collaboration with 'All India Vishnu Sahasranama Cultural Federation' & 'Global Vishnu Sahasranama Satsanga Federation.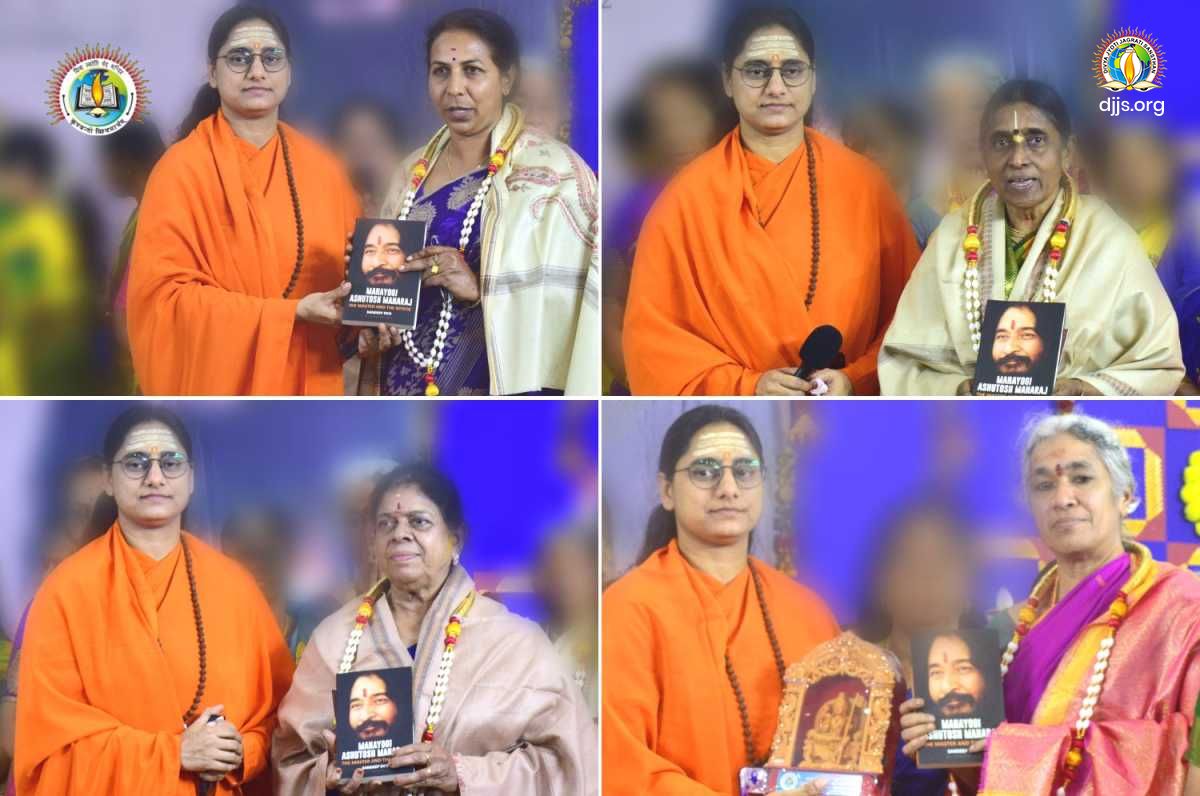 This program was a first of its kind as it caught the attention of various culturally active organizations in the Dakshina Bharata to attend and collaborate with the maneuvers of DJVM.
The first phase of the program started with the Kalasa Sthapana along with the reverberation of Sri Mahaganapati Ahvana & Sankalpa followed by Deep-Prajwalana (Lamp Lighting). Soon afterward, the women ved pathi-s from Global Vishnu Sahasranama Satsanga Federation & Global Vishnu Sahasranama Cultural Federation started this mega event by chanting Sri Rudra Prashna. With the end of the first session, Sadhvi Deepa Bharti Ji invited the attention of the Vedic enthusiasts to the activities of DJVM undertaken globally and gave video presentations. What struck the attention of the most Vedic enthusiasts was witnessing the former Vedic Sangoshthi-s and learning about the associations of DJVM in North-India for the appreciable work done in formulating the audio-visual of Shukla-Yajurvediya Rudrashtadhyayi (mādhyandina śākhā).
In the second phase of the program, the volunteers of Global Vishnu Sahasranama Satsanga Federation & Global Vishnu Sahasranama Cultural Federation along with DJVM Volunteers and Preachers started the recitation of Sri Vishnu Sahasranam (27 nakṣatramālā). Sri Vishnu Sahsranama is compilation of thousand divine names of Bhagwan Vishnu each depiction the divine plays (leela-s) of Shri Bhagwan that Bhishma Pitamaha recited in the divine presence of Shri Krishna as mentioned in the "bhīṣma parva'' of mahābhārata epic. 27 nakṣatramālā means the chanting of the entire Sri Vishnu Sahasranam 27 times along with the Vedic ceremonial rituals and offerings to Lord Vishnu and Goddess Laxmi. This 12 hour long program resonated with the environment with Vedic vibrations, Vedic rituals, cultural exposure, spiritual renaissance and positive aura engulfed with divinity.
Meanwhile, the Team of DJVM Volunteers from Delhi along with Sadhvi Deepa Bharti Ji, Global Program Coordinator interacted with the following guests during the event.
Vidya Vachaspati Dr. Aralumallige Parthasarathi, Founder Global Vishnu Sahasranama Satsanga Federation
Smt. Usha Chidambaram, Joint Secretary, All India Vishnu Sahasranama Cultural Federation, Chennai
Smt. Anitha, Faculty, Visvas Charitable Trust, Chennai
Shri Jayakumar AP, Founder & President, Sri Panduranga Vishnu Sahasranama Mandali.
Smt. Suvarchala, Vice Chairperson, All India Vishnu Sahasranama Cultural Federation, Bengaluru
Smt. Meena Raghavan, Vice Chairperson, All India Vishnu Sahasranama Cultural Federation, Bengaluru
All the esteemed dignitaries gave their overwhelming support and ensured their collaboration with DJVM in the future endeavors.
DJJS Volunteers felicitated the guests with a token of respect. Sadhvi Unmesha Bharti Ji paying her reverence unto the lotus feet of Divya Guru Shri Ashutosh Maharaj Ji gave vote of thanks and invited the masses to come forward and march towards knowing the essence of Vedas i.e., BrahmGyan.
The program was taken to the end with melodious Shri Govinda Namavali and Kolata folk dance. After that everyone joined Maha Mangal Aarti followed by Kalash Visarjan and Mahaprasadam.
It is a matter of honour and due respect that in Dakshin Bharat, where practice of Shukla Yajurveda is less prevalent, Divya Jyoti Ved Mandir has made a remarkable impression through it and has carved its path virtuously.