Furthering the state- of- art sustainable living campaign of DJJS Sanrakshan- #EkAchiAadat, DJJS Aligarh organized two Green Habits Workshop at Upper Primary School, Kareka, Sadupura, Iglas, U.P. and Sarai Pukhtam Shikarpur, Bulandshahr, U.P. respectively.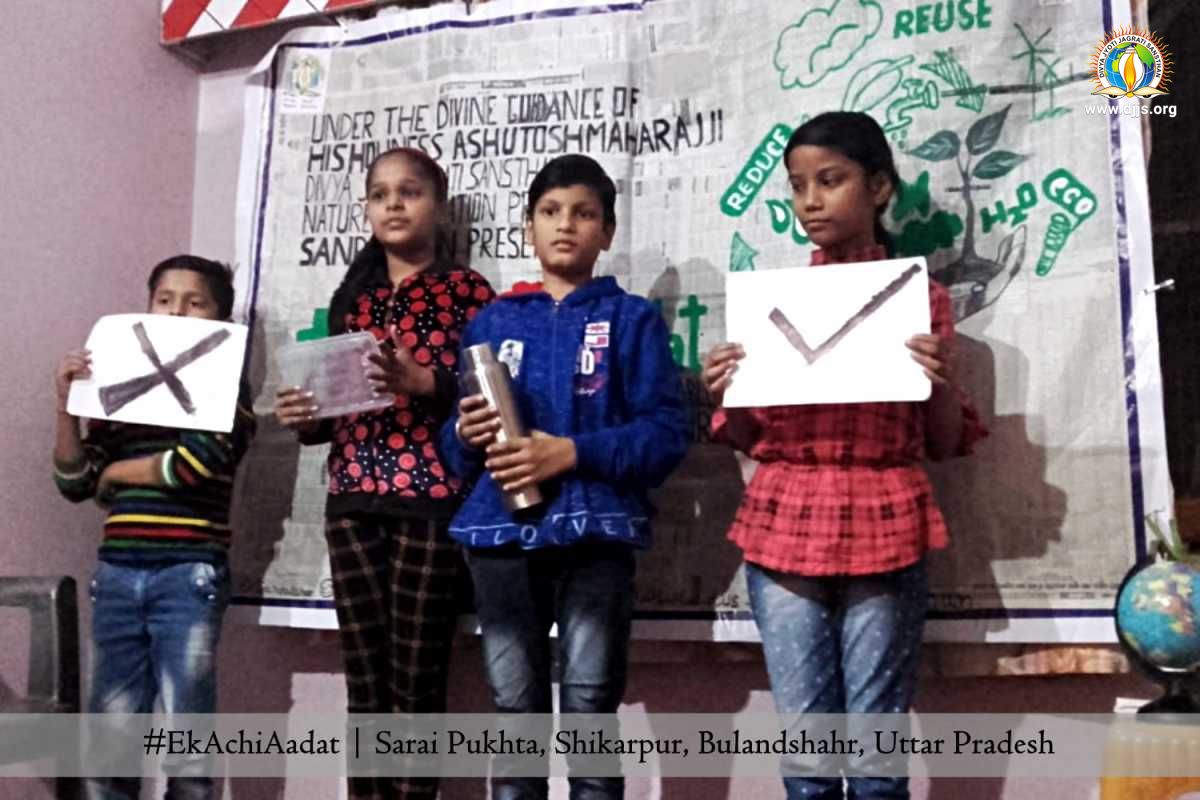 Two and half hour session began with a thought provoking presentation on the current state of global environment. Quoting the case of Kivalina island Sadhvi Vedvani Bharti Ji, ascetic disciple of His Holiness Ashutosh Maharaj Ji, founder and head, DJJS highlighted the seriousness of climate change issue. She further added that climate change is not just one isolated problem rather it is an umbrella problem encompassing and aggravating all other environmental issues including water crisis, species extinction and air pollution.
This state of environment session was followed by hands- on ecological footprint calculation session in which the students understood the linkage between their lifestyle choices and health of the planet as well as calculated their lifestyle impact.
The session culminated in an extensive discussion on sustainable lifestyle habits which when adopted can make a serious difference for the planet health. Giving an overview of green habits imbued in Indian culture, students were motivated to assess each of their choice based on the concept of 3R's – Reduce, reuse and recycle. The students charted out a series of green habits and pledged to adopt them in their lives.
DJJS Sanrakshan #EkAchiAadat is a unqiue sustainable living campaign based on the basic premise that ancient Indian lifestyles are perfect examples of sustainable lifestyles. Revival and re- establishment of the green habits imbued in Indian living can give a longterm solution to the ever- intensifying environmental crisis.