Agrasen Jayanti is the birth anniversary celebrations of a legendary Hindu king Agrasen Maharaj. He was the king of Agroha. Maharaja Agrasen is known as the icon of non-violence, messenger of peace, embodiment of sacrifice, compassion and true-socialist.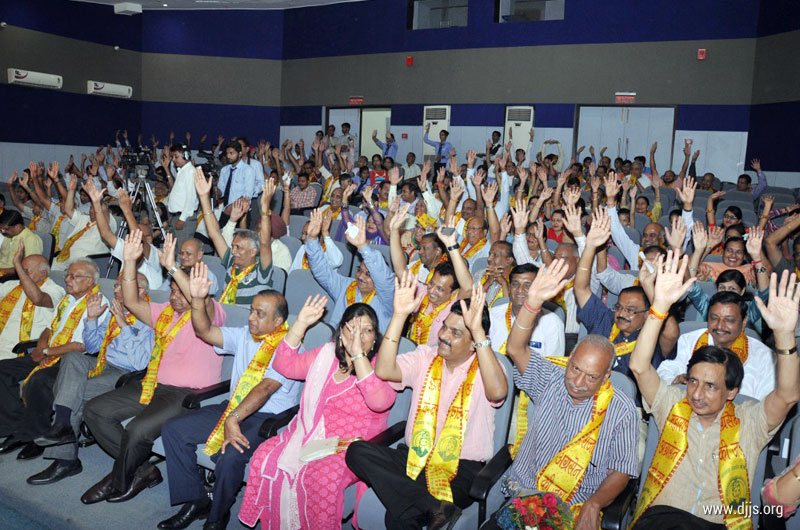 On this great occasion, Divya Jyoti Jagrati Sansthan "DJJS" was invited by "Aggarwal Samaj Sabha" to conduct a program on the eve of "514th Agrasen Jayanti Samaroh" in Patiala, Punjab on 24th September, 2017. Sh. Ashwani Garg (Chairman, SVIET Institute, Banur), Sh. Satish Gupta (Chief Engineer, Punjab PWD B&R, Patiala), Sh. Jatinder Goel (Finance Director, PSPCL), etc were invited as the Guests of Honour. Large number of people gathered to attend the program.
The captivating discourse by DJJS was accompanied by prayerful and soulful bhajans. In current life's busy scenario, our mind and soul strives to achieve peace. Devotional songs are best recommended for attaining peace of mind and soul eternally, as these pure songs imbibe us into a re-energized optimistic life. The listeners could be seen totally absorbed in the inspiring and pure aura. Such songs are like live matchsticks and produce the fire of God-awareness whenever they are struck on the foundation stone of devotion.
The orator, Sadhvi Sumedha Bharti Ji, disciple of Shri Ashutosh Maharaj Ji (Head & Founder – DJJS) highlighted the great deeds of Maharaja Agrasen. He never discriminated against anyone and had an equal vision for all. He is surely an example for all of us. Further, Sadhvi Ji beautifully described the principle of mankind and importance of human life. She clarified that "life is not a continuous chase for the accomplishment of materialistic luxuries. In fact, this running after is instigated by our unsatisfied, confused and diseased mind. Hence, living truly is to stop chasing the wrong things, introspect, connect with our inner self and subsequently treat our restless, diseased minds. Thus, learn the art of getting connected with the soul, and practice the technique that connects us to the real energies which leads to the Self Realization. Seeing the divine light of God from within is the ultimate experience needed to transform a person into a self-recognised spiritual being.
During the course of meditation on the internal light, spiritual growth also takes place. Through diligent practice, a person begins to transform by sharpening his power of discrimination against right & wrong, rising above selfishness, pride, and falsity. He develops the ability to shake off envy, greed, attachment, etc. because he views life with a broader vision - seeing beyond the pettiness, egotism, and over-extensive passions of this world. One should note that the victories in moral behaviour without seeing the divine light of God are good, but small in comparison to the undivided bliss that one experiences when in communion with the light of the inner-world. That bliss creates a saint out of a sinner, as one realizes his own purity and strength and inspires others to fashion their life in righteousness as well.