Happiness is but an occasional episode in the general drama of Pain. This famous quote stresses on the happiness being just ephemeral but at Divya Jyoti Jagrati Sansthan (DJJS), this is proved wrong by providing an eternal source of happiness. DJJS is a socio-spiritual organization founded and headed by Shri Ashutosh Maharaj Ji. Among many other marvelous programs that are conducted by DJJS, one such was held at Aligarh, U.P where thousands of devotees gathered for that eternal happiness.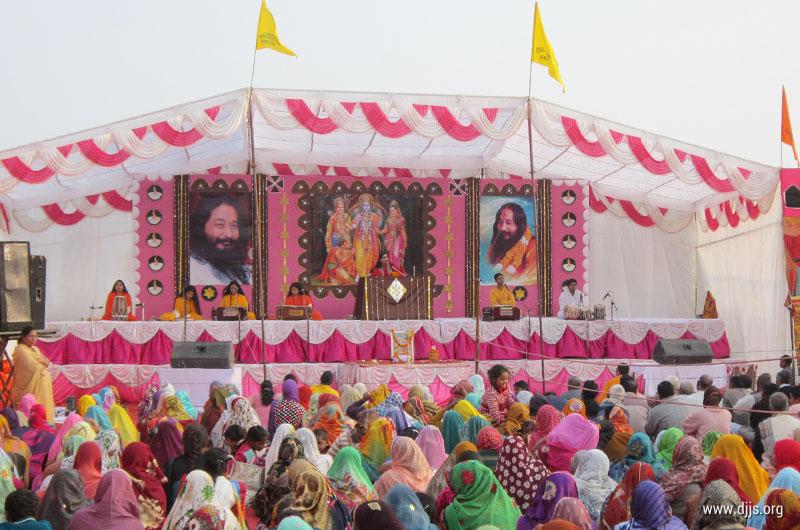 Sadhvi Padamhasta Bharti Ji, preacher disciple of Gurudev Ashutosh Maharaj Ji was the orator of the event. It was a three day program (From 6th to 8th January 2017). Sadhvi explained we all have been taught from the childhood that we are not body but soul, and way to being truly happy is feeding soul than just body. We all want love, that's undeniable fact. But mistake we all commit is demanding that love from another confused being like us. Well, there is one relationship that fills our soul with true love and happiness and frees us from worldly bondage unlike love we get from worldly pleasures that just attaches us. Guru-disciple relation is the only relationship that only uplifts you, even to the point of salvation. Lord Ram and Hanuman Ji depicts how exactly this relationship is supposed to be.
Hanuman Ji crossed the sea just like we are supposed to cross the sea of life and death. He came across so many demons which tried to distract him from his path but what kept him going was his love for his guru. This teaches us that we also have to kill our demons like laziness, envy, greed, need for admiration from other people etc. All this is only possible if we are enlightened by complete master whose guidance is just as perfect as him. Maharaj Ji blesses all his disciples with Brahm Gyan that helps disciple in crossing that sea. Just like hanuman's aim was to get to the Sita Ma that represents 'Bhakti and Mukti', by learning from devotee Hanuman and following Guru's instruction we can also achieve bliss and salvation.
Other devotees like Prahlad and Meera whose life depicts that you can live in state of Mukti even if conditions of living are not conducive for you. They were tortured by their own family but outer circumstances never affected their devotion. If you chose to love your Guru unconditionally, He will bestow unfathomable bliss on you. That's the kind of devotion we need to develop in our lives.