As a part of its webcast series, Divya Jyoti Jagrati Sansthan presented a thought captivating and soul-stirring motivational Sunday Satsang program at Nurmahal, Punjab, on 8th May, 2022. The 95th edition of the webcast stimulated the spirit of Guru Bhakti amongst the devotees of His Holiness Ashutosh Maharaj Ji across the globe. The spiritual event was webcasted through the YouTube Channel of DJJS.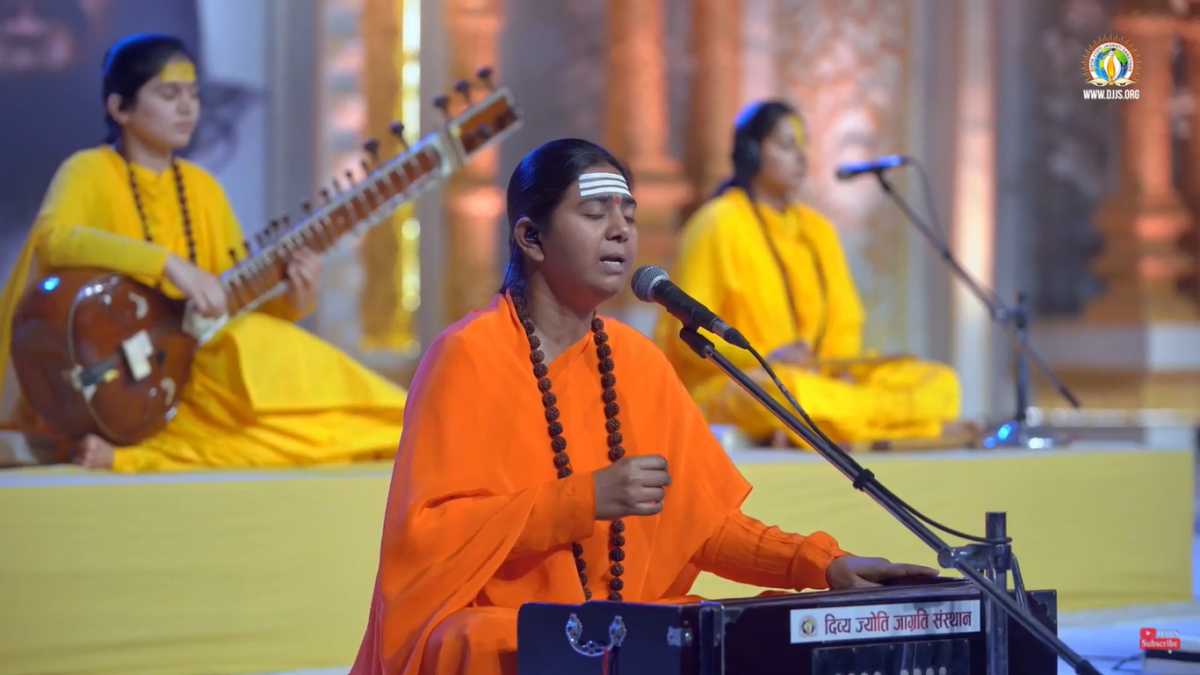 Sadhvi Jagdeepa Bharti Ji, a disciple of His Holiness Ashutosh Maharaj Ji (Founder and Head of DJJS) invoked the spirit of gratitude and self-inquiry among the devotees by sharing inspirational interpretations on the theme 'Guru's Unique ways of Showering Grace'. The program began with Veda Mantra chanting followed by devotional bhajans and insightful discourses.
Sadhvi Ji reiterated that a True Guru essentially awakens the Inner Self of his devotees and revitalises their spiritual aura. Not only that; the Guru also protects his devotees at every step of their life. Our Holy Scriptures verify this fact that a Perfect Master guides the devotees to tread the path of truth by blessing them with the supreme wealth of spiritual enlightenment.
Sadhvi Ji emphasized that to liberate oneself from the cycle of birth and death, 'Brahm Gyan' or Supreme Knowledge is the only way. Spiritual Knowledge encourages self introspection and eradicates all the delusions of mind. This helps an individual to live a life of tranquillity and wisdom.
While walking on this path, a devotee experiences the unique ways in which grace of the Divine Guru is bestowed. On experiencing these blessings, a deep sense of gratitude arises in the devotee's heart and he realises the utmost significance of 'Brahm Gyan' or 'Self-Realisation' in life. The eternal technique of meditation is the perfect tool to tap the inner spiritual wealth. As ardent devotees of the spiritual path, we should be willing to nourish our spirits through regular meditation and offer complete surrender at the lotus feet of the Perfect Master.
The Satsang program concluded with a pledge to remain committed on the path of spiritual awakening, followed by an hour-long collective meditation session, in which the devotees of His Holiness across the globe participated.