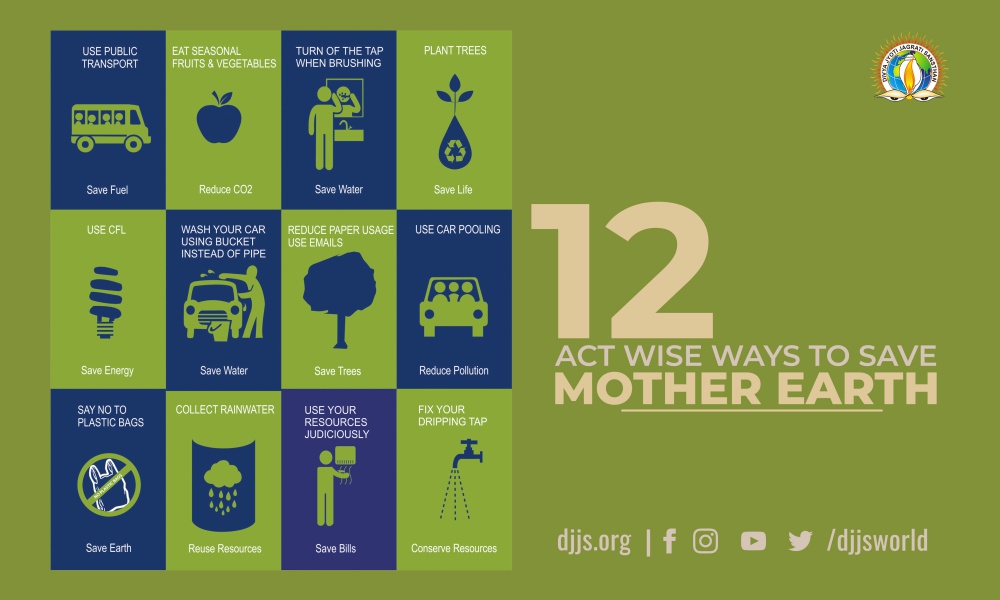 Its world environment day…
It's time to take responsibility…
It's time to save Mother Earth from the mounting environmental threat!
We bring to you 12 Act Wise Ways to Save Mother Earth. You know them but still you don't act upon them. Reason is just one "to kya hua, chalta hai, its ok ". Friends it might seem ok abhi (now) while you are sitting in an AC room with your ipads, Iphones, androids, laptops all working well. But remember those moments when there is a power cut and everything which is so much associated with your personality goes useless without that electric current. Think of those moments when you have to step out of you AC cars and comfy homes into the scorching sun. Think of those moments when the heat knocks you down with various infections and flues. Think of those moments when floods and tsunami's hit your fellow humans in various parts of the world.
Kya ab bhi chalta hai? (Is it still ok!)
Friends with each passing day, our lax attitude is just adding on to the climate change threat on our planet. Thousands of species of animals and plants are already bearing the brunt of the problem and signalling the emergency alarm for humanity. Scientists exclaim that if we don't act now there might be no tomorrow.
It's time to act for saving the Mother earth. Here is your act wise key:
Use public transport and save fuel.
Eat only seasonal fruits and vegetables. Reduce import. Reduce Carbon dioxide
Turn off the tap while brushing and save water.
Turn off extra lights and fans. Switch to LEDs or CFls and save energy
Wash you car using water in a bucket and save water
Reduce your paper usage simply by using emails and edocs and save trees.
Use car pool. Save fuel. Reduce pollution.
Say no to plastic bags and Save earth.
Harvest rainwater. Reuse resources and do your bit for mother earth
Adopt the mantra of Rethink|Reduce|Reuse| Recycle and save earth
Fix your dripping faucet. Save water. Save resources.
The mool mantra of environment protection; plant and take care of trees .
Here are your 12 ways to make a quick start for saving mother earth. Begin with one and steer your life towards a pro-environmental and pro-earth living.
May you make this Environment Day a happy one for Mother earth. All the best!
Team Sanrakshan