"Don't Let People Pull You Into Their Storm. Pull Them Into Your Peace"
It is important to understand that the greater the misery and unhappiness in the world, the more are the efforts and people needed to achieve a big goal. When the goal is happiness for the entire humanity, intense one-pointed dedication is required by large groups of people for achieving it.
Despite learning all the Shastras, Eknath could not experience inner peace. He wondered, "What's the use of knowing so much of Vedanta, when it cannot lend me peace of mind?" He contemplated over the moot question as to what do the scriptures proclaim in regard to enjoying inner peace...
The 9-day event held at Dehradun from 09th Nov to 17th Nov, 2016 provided the healing touch to the wandering minds and served as a calm and quiet resort for the devotees to kindle spirituality in them and each and every molecule of their being was surcharged with divine aura.
Devotees of Dibrugarh initiated their divine journey of self-awakening by offering prayers to Maa Shakti- who is all auspicious Shiva (consciousness), the bountiful, who fulfils all the objectives of devotees, who is the giver of refuge, with three eyes and a shining face.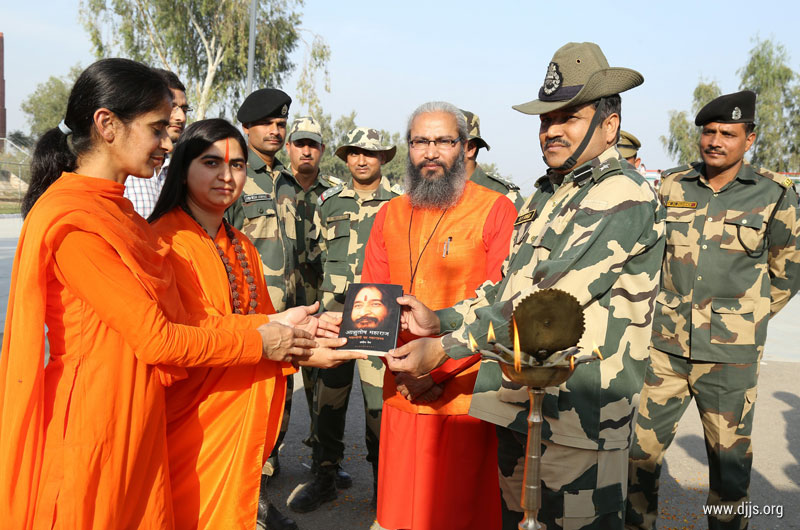 DJJS organized an event named 'Rashtra Aradhan' on Nov. 20, 2016 at Sulemanki (Indo-Pak Border), Fazilka, Punjab. Sadhvi Garima Bharti Ji, preacher disciple of Shri Ashutosh Maharaj Ji along with other saints conducted discourse.

Like every year, this year also DJJS organised various Diwali Exhibitions cum sale of various products made under the Project – Antardrishti, especially Candles at various places like Punjab, New Delhi, Uttar Pradesh during the month of Oct, 2016.
Young Nature Conservators of DJJS Ghaziabad Branch undertook 'Swacchata Abhiyan' at Ram Leela Maidan, Shakti Khand 2, Indira Puram.
SAM recently organized its latest exclusive edition of Culture Connect Conclave with teachers and students of Sumermal Jain Public School at Divya Dham Ashram, New Delhi.
STAY CONNECTED