Divya Jyoti Jagrati Sansthan often conducts numerous counseling sessions and motivational lectures under its social welfare program for the visually impaired, Antardrishti. Such programs are undertaken in various schools, institutions & workplaces for the specially abled people from time to time.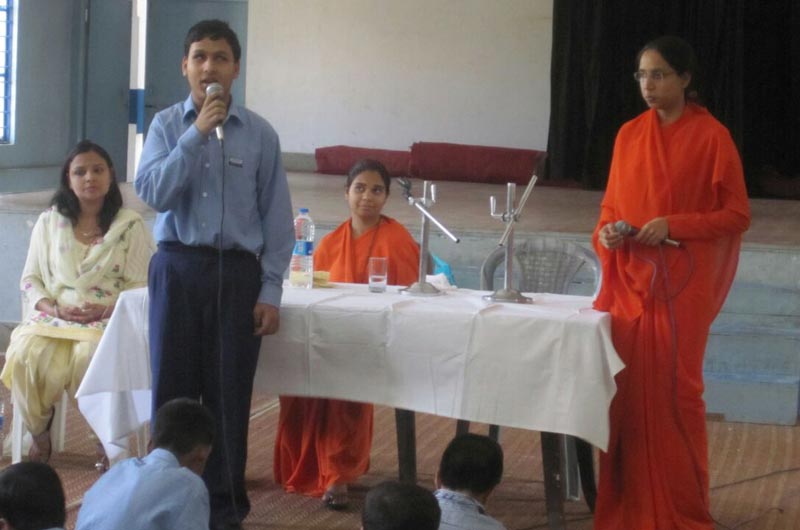 Antardrishti has been established with the objective of mainstreaming people with disabilities back into the society; by providing them with sound spiritual foundation, vocational and extra-curricular skills and employment opportunities that help in holistic character building. The program works towards complete empowerment of visually and physically challenged transforming them into "Differently Abled Persons". It also lends its support to craft the conditional and deprived lives of the people with disabilities, and aid them to live independently with dignity.
One such motivational lecture along with inspirational bhajans was delivered to the students of Blind Relief Association (B.R.A.), Sunder Nagar- New Delhi. The aim of the event was to provide the students with an opportunity to understand their real self, and to make them realize that they are as significant to the society as other people with vision.
Under this one-day event, Sadhvi Prapurna Bharti and Sadhvi Vandini Bharti, disciple of His Holiness Shri Ashutosh Maharaj Ji motivated the students to instill confidence, and encouraged them for a spiritual leaning. Further, they elaborated how spiritual awakening can help in transforming 'disabilities' into 'different abilities'.
Sadhvi Prapurna Bharti Ji also emphasized the need to realize one's true self which would help unleash inner potential. By awakening one's spiritual consciousness, a person can become stronger, confident and independent. She quoted several examples of people with disabilities who did not let their disability come into their way, and rather achieved great heights in life. She concluded the session by quoting "blind is not the one deprived of sight, but the one who is unaware of or blind to the essence of life."
There was a lot of appreciation from the students and teachers of B.R.A. The students, greatly enthused by the inspirational discourse, came forward to sing bhajans and played musical instruments. And, at the end of the lecture, they shared their feelings and interacted further with the preachers. The teachers of the school also attended the complete session, and showed great interest in the mission. The program ended with Prasad distribution with the assistance of teachers from the organization.
The participants seem to have taken positive learning from the session. After the program, many people showed interest in being initiated into divine knowledge (Brahm Gyan) and later on, special initiation session was organized for them for the same.
The Principal and teachers of the school expressed their desire to conduct such motivational discourses on regular basis.