Although the entire world celebrates New Year as per the Gregorian calendar created only on the basis of some pre-estimates and projections lacking scientific basis, Hindu mythology and India's rich culture give sufficient indicators to accept Vikram Samvat 2076 or Chaitra Shukla Pratipada as the beginning of our New Year. The date of 6th April this year was indeed special as it marked the dawn of the Indian New Year. To solemnize the same and acquaint everyone about the rationality and philosophical significance of Indian New Year, DJJS conducted another powerful monthly spiritual congregation on Sunday 7th April, 2019 at Divya Dham Ashram, New Delhi. A massive devout gathering of preachers, spiritual orators, volunteers and devotees from Delhi-NCR assembled to memorialize the auspicious start of Vikram Samvat.
The Preacher disciples of Shri Ashutosh Maharaj Ji spoke on the theme of 'Accepting Vikram Samvat as Indian New year and its scientific and theological relevance'. Many exemplars from Hindu mythology and our ancient scriptures were cited to describe the significance of Indian New Year. The preacher orator elucidated that according to Indian calculations, Lord Brahma started the creation of this world on this day. It is described in the universal mythology that this is the day when the creation of the cosmos began. Following this, Maharaja Vikramaditya started a calendar 2076 years ago so that we should be familiar with our Indian dates, months and years. According to the Indian Calendar, the day the creation began; it was accepted as the first day of New Year. This day also marks the beginning of the Navratri and the glory of Mother Jagadamba is glorified across India. So only on Chaitra Shukla India's social consciousness enters New Year.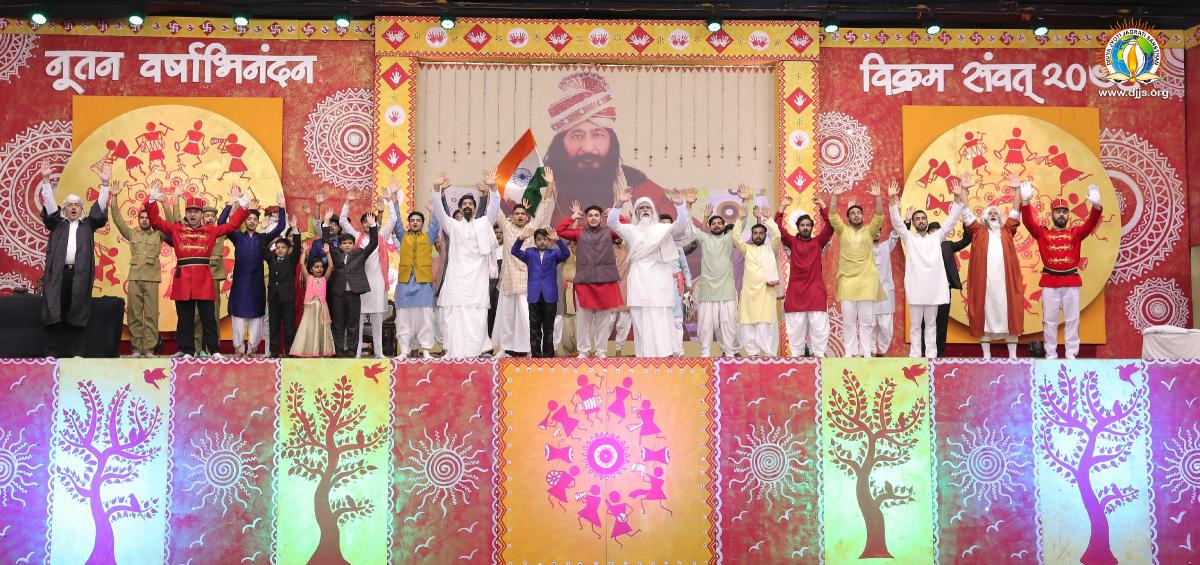 A sequence of devotional bhajans and thought-provoking interpretations apprised the assemblage of spiritual aspirants about the scientific and metaphysical relevance of accepting Chaitra Shukla Pratipada as the New Year. A splendid play was also enacted on the life of Maharishi Arvind Ghosh. The preacher orator reiterated that during Chaitra Shukla phase, four kinds of waves fall on the earth from the constellations. These micro-vibrations have a positive impact on our physical and mental structure and is spiritually uplifting.
The Preacher disciple concluded that we should proudly accept Vikram Samvat as our New Year which is not merely based on some estimates or projections but is spiritually and logically sound. As earnest devotees we should also take pledge to enhance the frequency and profundity of our devotion, selfless-service, meditation and continual surrender at the lotus feet of the Divine master of the times Shri Ashutosh Maharaj Ji. We should seek his eternal guidance to practice the infinite knowledge of Brahm Gyan and make our new year a true reflection of novelty and divinity. Everyone present at the assemblage were moved by the thought-stimulating divine pronouncements and vowed to make their New Year more significant and efficacious.