"No one and nothing outside of you can give you salvation, or free you from the misery. You have to light your own lamp. You have to know the miniature universe that you yourself are." A human body is blessed by the Lord to be one with him. And, each human being in this form must connect with the inner name. To explain people the importance of Sumiran, DJJS organized a Monthly Spiritual Congregation in Tarn Taran, Punjab on 7th April 2019.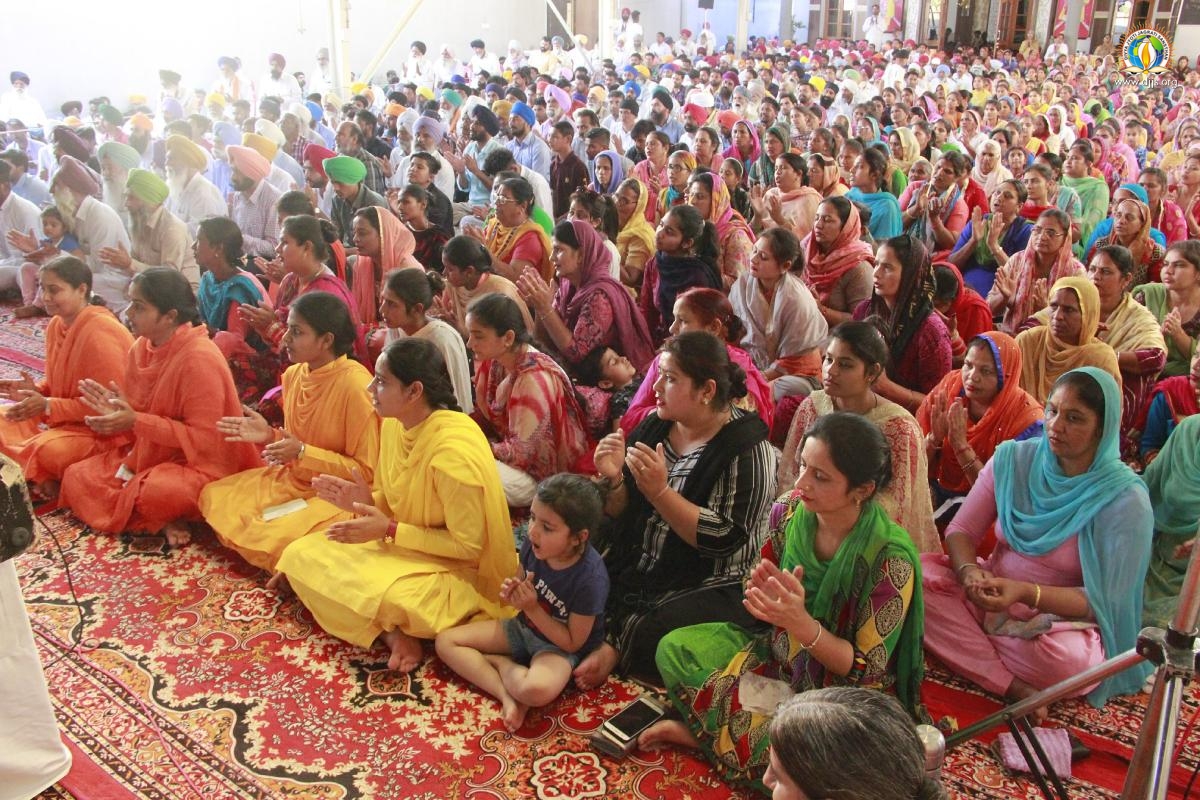 The event commenced with chanting of spiritual shlokas and prayers which purified the environment and its positive vibes let the audience immerse themselves in the melody of the series of devotional songs. It divinely touched their hearts and opened their minds. The lyrics of devotional songs successfully transformed the parched hearts of audience into tears of devotion which made them steadfast on this path.
In human form, one is blessed to follow the path of spirituality. Disciples of Shri Ashutosh Maharaj Ji explained that Brahm Gyan makes an individual realize the importance of meditation. Our breath needs to remember God, as this life will not be given again. There are eighty-four lakh species in this universe and out of all species it is only the human species which is gifted to receive this boon. All living beings, as an outcome of their deeds receive their body life after life. Human body is attained only when one performs good deeds as it is the higher form of thoughts and discretion.
The spiritual orators of DJJS shared their invaluable divine experiences and guided the audience towards the basic teachings of our master and the very prime purpose of life. They spoke that even if a man possesses all worldly things he cannot be truly happy and for his inner peace the soul needs the name of the lord. A person's body becomes first irritated, then agitated, then loses strength and becomes weak if they don't receive food to keep them going. The same applies to the soul. A person who does not practice simran bhakti, over a course of time, their soul also becomes frustrated, feels irritated, and then over a due course of time, becomes weak and loses strength. Which means little worldly things have a greater effect on that person, the person is not peaceful from inside anymore and gets restless. Like food gives peace to body, simran bhakti gives peace to heart. This realization dawns only when an individual is imparted with Brahm Gyan. Only in this garb of humans can one attain Brahm Gyan and meditate upon the divine light.
A divine feast (Prasadam) marked the end of the Spiritual event. Audience shared their heartfelt gratitude towards DJJS and volunteers who contributed in the event.