Divya Jyoti Jagrati Sansthan (DJJS) organized a 5-day Shri Ram Katha at Phagwara, Punjab, from the 10th to 14th October 2023, under the divine guidance of His Holiness Ashutosh Maharaj Ji (Founder & Head, DJJS). A day before the Katha on 9th October 2023, Kalash Yatra (peace march) was organized to mark the auspicious beginning of the Katha. The Yatra urged the residents to take time out of their busy routine to attend the Katha.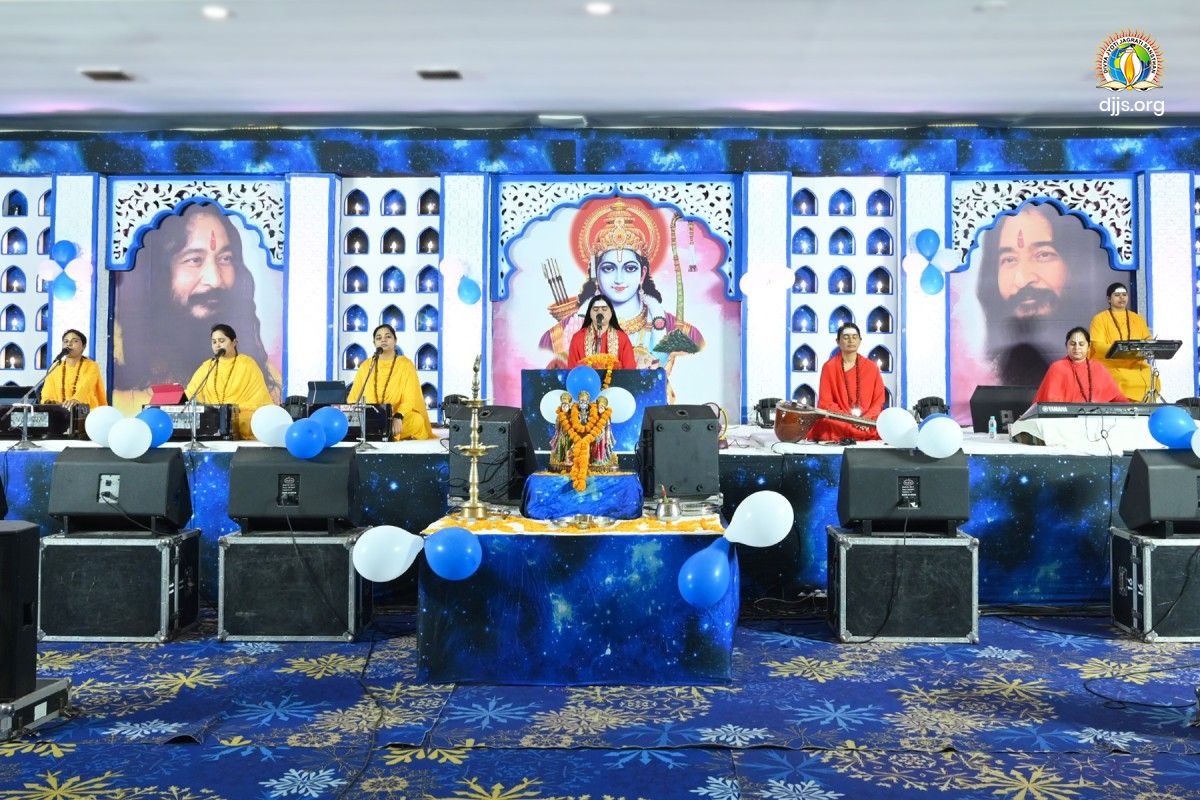 The orator of the Katha, Sadhvi Garima Bharti Ji, beautifully narrated the Katha while explaining the deeper spiritual meaning behind the events of Lord Ram's life which was full of challenges, be it going to exile for 14 years, the abduction of his wife Sita by demon Ravan, and the emotional and ethical dilemmas he faced while fulfilling his duties of his kingdom. Even while meeting the most challenging situations, his calm demeanor remained integral. That's why he is also known as the Right Action Man (RAM). His principles, moral ethics, and practices in Treta Yuga are still significant today. Lord Ram is called "Maryada Purushottam" - the embodiment of righteousness and virtue. His Life and journey were in perfect sync with the "Sanatana Dharma" – the Eternal Truth. Lord Ram is the ideal personification of divinity and devotion to duty. His positive and efficient response in every situation inspires people of all age groups towards an uplifted socio-spiritual life. Sadhvi Ji also stated that only spiritually transformed individuals can pave the way for a truly reformed society and, consequently, world peace. Only a Perfect Spiritual Master of the time can bless us with Brahm Gyan (Divine Knowledge) and show us the real art of peaceful living. We can experience life from a broader spiritual perspective only when we connect deep inside with our divine self.
Various social projects by DJJS like Manthan, Bodh, Santulan, Antardrishti, Antarkranti, Kamdhenu, and Aarogya were discussed and elaborated on each day by Preachers and selfless volunteers along with an accompanying video documentary.
Many prestigious guests attended the program and highly appreciated the organization's efforts. The audience was overwhelmed witnessing such great significance of spirituality and highly praised the constant efforts of DJJS. The event was further enriched with devotional songs and insightful presentations. Many well-known news sites like Dainik Savera, Dainik Bhaskar etc featured the program in their articles with praises and images.
The program concluded with an emphasis on having high morals and ethics like Lord Ram today. Many devotees grasped the essence of Shri Ram Katha and stepped forward to get initiated into Brahm Gyan, which is the true purpose of human Life. The doors of DJJS will always remain open for everyone to begin their spiritual journey.