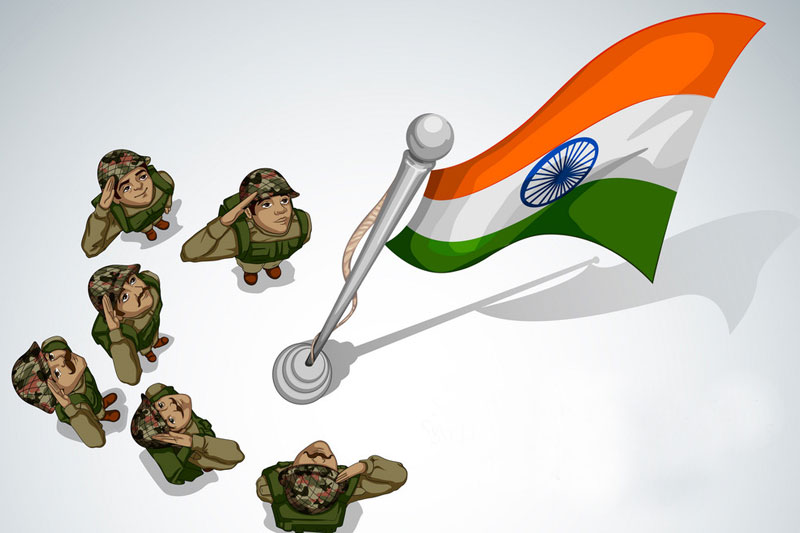 There was an era when thousands in souls were ready to sacrifice their life on a single call of their nation. That era, undoubtedly, belongs to the land of immense love, devotion and sacrifice i.e. Bharat... A land for people prayed for rebirths to serve their country! The time is a witness of such souls who deeply loved their motherland and worked passionately towards the progress of their country. Reminiscing these brave hearts, we present a few glorifying incidents of their lives embedded in the golden chapter of history.

COURAGE SHOWN BY A SINGLE MAN IS ENOUGH TO GATHER MAJORITY

In 1965, when war was going on between India and Pakistan, the country was heading towards food scarcity at a shooting rate. Sensing the tension between the two lands, countries like the US, which were then major suppliers of food grains also threatened to withdraw their support by disrupting the ongoing imports. The then Prime Minister, Lal Bahadur Shastri, out of his audacious nature, denied to bow in front of such adversities. He, along with his family, decided to skip a day's meal i.e. dinner to save food. After testing its utility for a week, he took to All India Radio Stations, urging the masses to follow the same, in order to gather food for soldiers on warfront. Hats off to those peasants of nearby war-afflicted areas who were found crawling through underground passages and tunnels, carrying tiffins stuffed with nutritious meals and buckets of milk for the soldiers posted in high- risk zones! The Prime Minister encouraged the Indian farmers to make the nation self-reliant by increasing the food production. Respecting the great roles played by the farmers and soldiers for the nation, he also gave the slogan 'Jai Jawan Jai Kisan', which indeed sensitized the masses and inspired them to do their bit for the country. In this way, he made it a mass movement, which gave excellent results in covering up the food losses.

Once Shastri ji went to meet a war survivor, Squadron Commander Major General Bhupinder Singh, who was massively burnt in a missile attack on his tank and was hospitalised. Noticing tears in the Commander's eyes, Shastri ji tried to console him for his condition. But he himself turned emotional on hearing the commander's reason for crying. The Commander, who was laying on the death bed, said that he was feeling sad for not being able to fulfil his duty of saluting the nation's PM and the great patriotism that he exemplified through his service for Mother India...
…
To know the other glorifying incidents in toto, read the complete article in Aug'19 edition of English Akhand Gyan Monthly Magazine.
Need to read such articles? Subscribe Today