Geeta Jayanti is the birthday of 'Shrimad Bhagwad Gita", the sacred text of Hindus. It's celebrated on the Shukla Ekadashi, 11th day of waxing moon of Margashirsha month of the Hindu calendar. The Gita is undoubtedly the immortal philosophical and spiritual doctrine which was taught to Arjuna on the battlefield of Kurukshetra. It is the most widely read and revered religious text of the world. Further, it was also compiled by Veda Vyasa on the banks of river Saraswati, which was once a perennial river.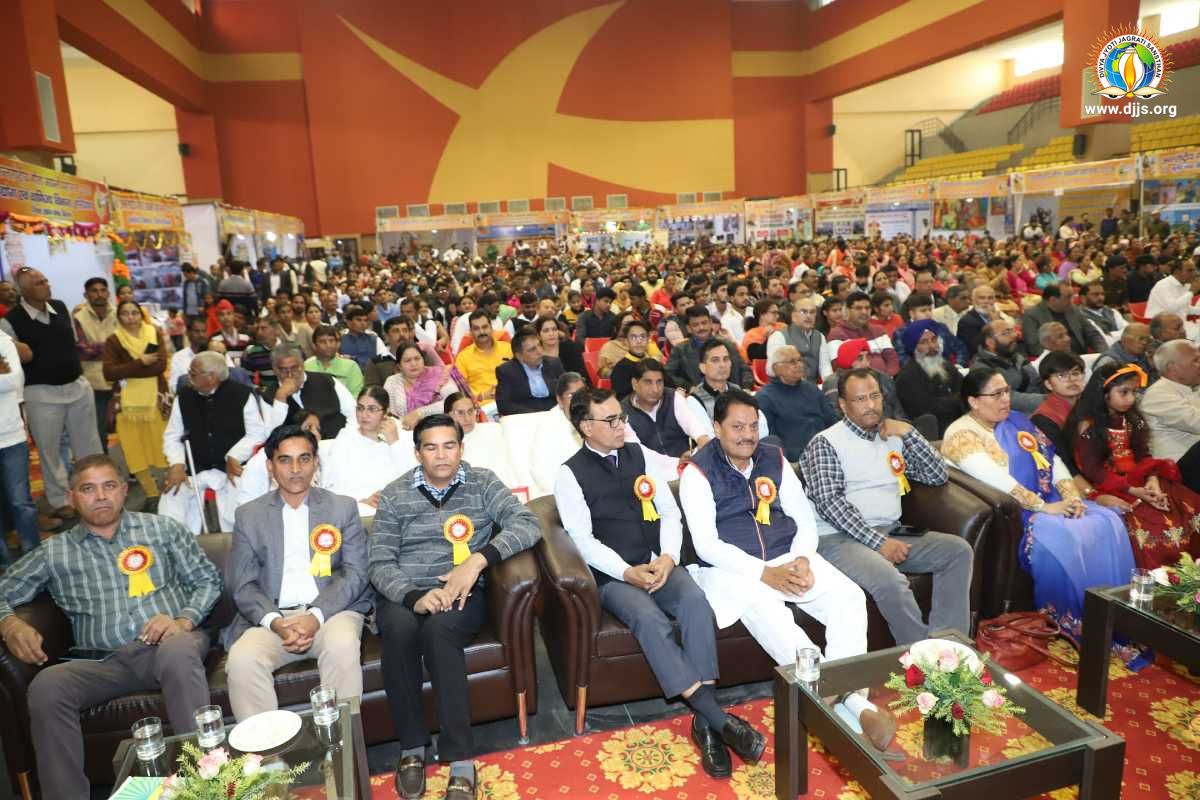 Divya Jyoti Jagrati Sansthan (DJJS) was invited by Haryana Government to participate in Geeta Jayanti Mahotsav, 2019 at Devi Lal University, Sirsa (Haryana) in 3 days festival from 6th to 8th December, 2019.
The representative of DJJS, Swami Vigyananand Ji (Disciple of Shri Ashutosh Maharaj Ji) explained that Shrimad Bhagwad Gita debates the right and wrong of conflict. It also discusses one's duty towards himself, or herself, his or her fellow human and God. Lord Krishna taught Arjuna the sacred wisdom of Holy Gita on the battlefield of Kurukshetra, and thus made available to the entire human race, the poem often referred to as the "Song Celestial." Shrimad Bhagavad Gita is not just an ancient scripture but also serves as an essential guide to better living, conducting business, communicating to the modern world and spiritual awakening. Its greatest quality is that it prompts an individual to think, to make a fair and right decision, and to look at life differently and refreshingly without surrendering one's identity.
Lord Krishna then decides to tell Arjuna what the secret of life is. The secret of life happens to be the path of yoga, because it frees one from malevolency and pain. He narrates to Arjuna how he should do his duty and become a part of the Ultimate Soul. A man who has obtained inner enlightenment does not respond to good fortune or bad fortune. Spiritual awakening and its regular practice frees one from all afflictions.
In these three days, pearls of wisdom and underlying meaning of verses of Gita were shared incessantly from the dais. Audience was in awe of richness of this spiritual text and its relevance in the world even today.