Nepal: Divya Jyoti Jagrati Sansthan's center at Nepal has been high on its toes since the dark day of 25th April Earthquake that bruised the heart of Himalayas. A young and dynamic group of volunteers led by Sadhvi disciples of Shri Ashutosh Maharaj Ji have been playing a unique and remarkable role in bringing the society forward to help the victims of the dreadful disaster. Not just a token of sympathy but DJJS is extending empathetic support to the devastated families of Nepal.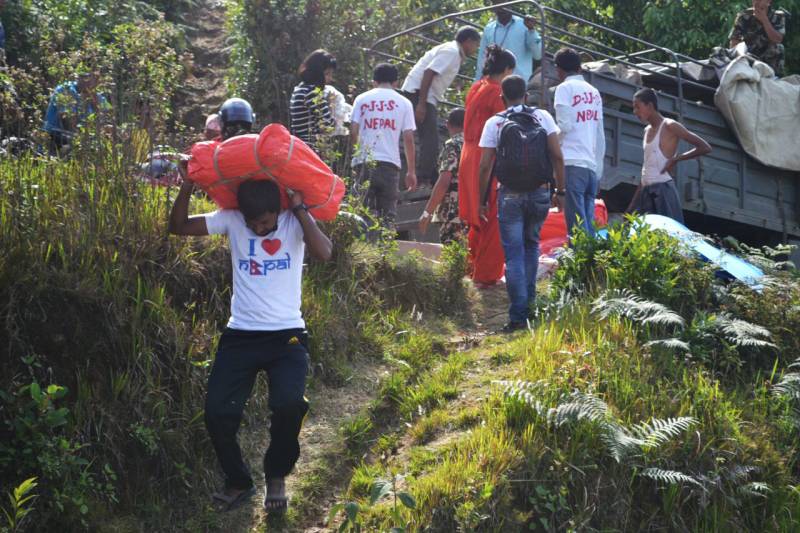 After Siraha, the dedicated team of DJJS Samadhan climbed the hills of Sindhuli, one of the most affected areas of the recent earthquake and rendered support in the form of rescue operations as well as relief provision. The VDC of Sindhuli inclusive of nine villages was covered in three consecutive days.
Thousands of victims of the sudden catastrophe were aided through health camps, and free medicines along with basic amenities such as dals, cereals, buiscits, salt, clothes, saris, tenting material etc. Furthermore, the fear and trauma of many was mitigated through psycho-social counseling, care and healing.
The compassionate, sensitive, dedicated and selfless volunteers of DJJS Samadhan saved lives of a huge number of livestock too, stuck in the debris.
Along with salvaging the disastrous outcomes it is also important to follow the much talked about jargon, though of the corporate world "Act before the catastrophe hits". Walking the talk, DJJS Samadhan conducts focus group trainings in the disaster prone areas educating people on damage control, first aid etc. whereas through similar session the program also empowers people in the disaster struck area on issues such as adaptation behavior, restoration and rehabilitation tasks etc.
Stay connected for regular updates & contribute/donate to extend your support.