Shrimad Bhagwat Katha is a much-admired scripture in our culture as it demystifies the meaning of human life and enunciates the human garb as the most precious of possessions. Lord Krishna in Bhagwat Gita had said to his ardent disciple Arjuna that only the fortunate ones receive this human body as only in this human body one can attain God. In our country Bharat, spirituality is the base of life and this is the reason why devotees from all over the world come to this land to learn its scriptures. However, this richness of spiritual knowledge needs to be realized by everyone who has taken birth in this pious land.
To make people aware of this richness of motherland, Saharsa Branch of DJJS organized much awaited Shrimad Bhagwat Katha from 20th to 26th September 2019. The small town of Purnia turned into a pilgrimage with devotees gathering from all corners of Bihar and outside to attend the divine spiritual congregation for six days. Preacher disciple of Shri Ashutosh Maharaj Ji (Head and Convener of DJJS), Sadhvi Padmahasta Bharti Ji along with her team, delivered a mesmerizing discourse comprising of eloquent narration of Shrimad Bhagwat Katha along with soulful devotional songs.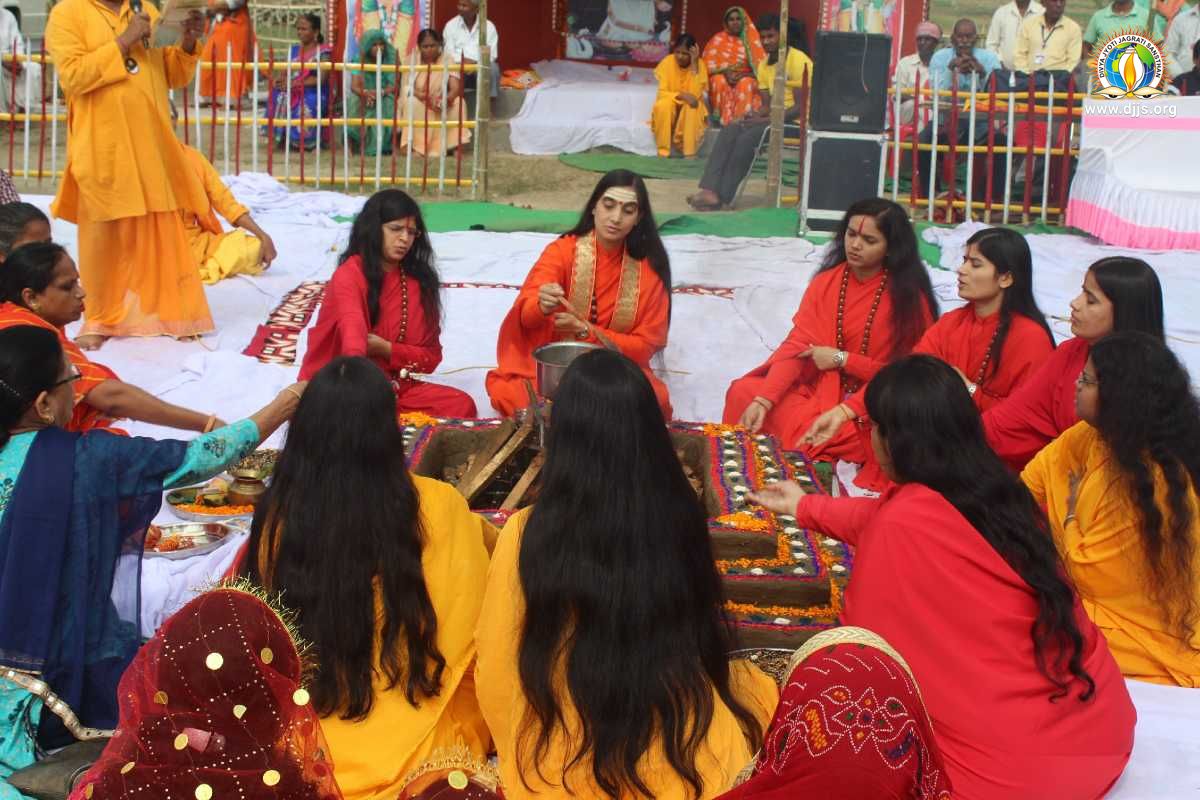 Shrimad Bhagwat Katha is also an enlightening series of conversations between ancient king Raja Parikshit and sage Sukhdev. In the last phase of his life Raja Parikshit approached the great sage Sukhdev Muni to attain solace and understand the true meaning of human life. The sage then imparted the king with Brahm Gyan and made him realize that this entire world is within him and thus he is a small drop in this cosmos. Sukhdev Muni told Raja Parikshit the story of King Bharat. King Bharat was known to a righteous one who took great care of his people and in his old age he had the desire to attain liberation. He left his palace and stayed in a hermitage outside the city and started doing Dhyan. However, even in the solitude of the hermit, Bharat could not refrain himself from attachment of a deer and thus lost the opportunity of liberation and unison with the creator of universe. Sukhdev Muni explained to Raja Parikshit that this world is a maze of illusion and the goal of life is to attain liberation. The one who entangles in this maze loses its path from the real goal of life and hence has to go through birth after birth.
Sadhvi Ji further said that one who listens to this Shrimad Bhagwat Katha and reaches out to a perfect master to ask questions and humbly bows down to receive knowledge attains this great path of Moksha. The one who treads this path continuously and follows the commands of Guru sails through this maze of illusion with great ease. In the current times Gurudev Ashutosh Maharaj Ji has been bestowing this Divine knowledge to all his disciples. Thousands of dedicated disciples have benefitted from this knowledge and now leading a life of values.
The event was highly praised as the path to divine knowledge was imparted in a lucid way and people could connect with the deep meanings of Shrimad Bhagwat Katha.