Kumbh derives its name from the immortal pot of Nectar, which the Devtas and Asuras (Daemons) fought over as described in ancient Vedic scriptures. It is believed that during the chase of nectar and fierce fighting between Devtas and Asuras for 12 human years, a few drops from the Kumbh fell at four places – Prayag (Allahabad), Haridwar, Ujjain, and Nasik. These four places are since believed to have acquired spiritual powers. Millions of devotees come together at Kumbh Mela, to partake in ritualistic bathing and ceremonies with the belief that it cleanses their souls and leads to salvation.
Divya Jyoti Jagrati Sansthan (DJJS) is participating in "Kumbh Mela Prayagraj 2019". To impart the concept of "Vasudev Kutumbkam", it conducted its opening event of Devotional Concert on 17th January, 2019. The program stimulated all by the deep spiritual meaning wherein the harmonious vibrations of bhajan were filled with the intense yearning for God.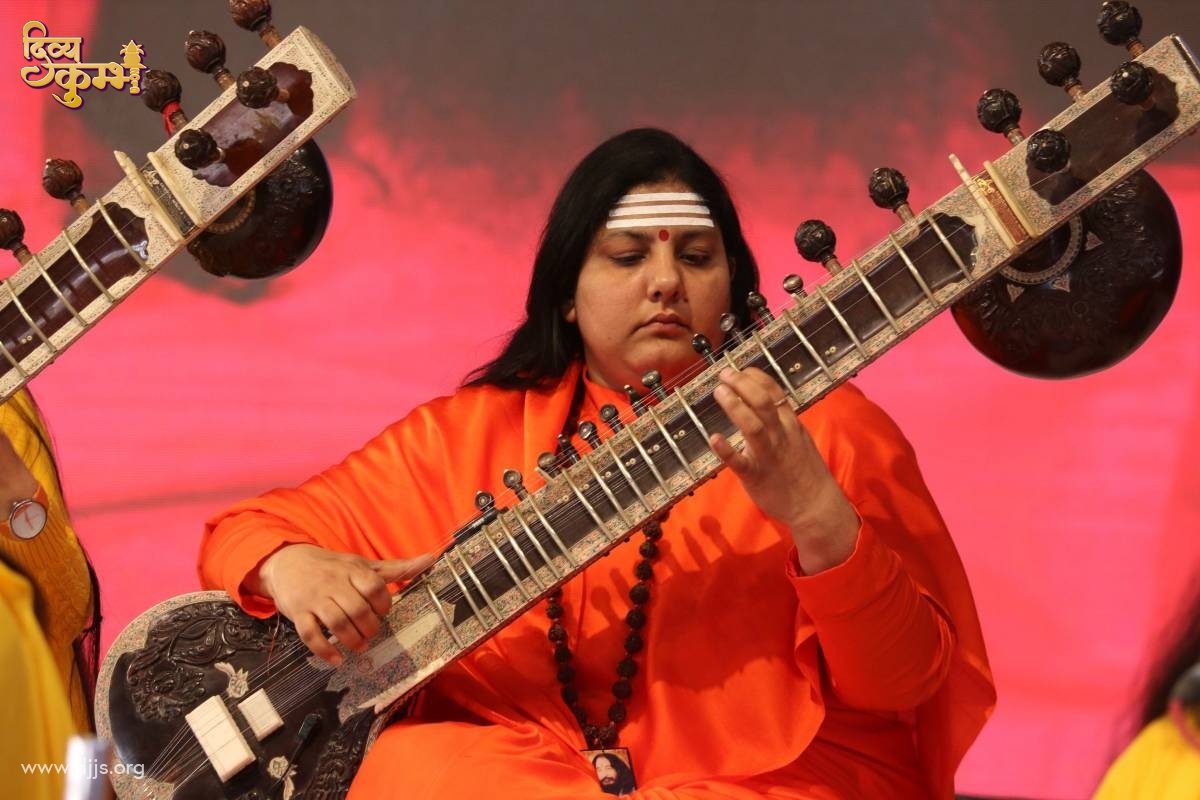 DJJS's very own eloquent orator, Sadhvi Shitabha Bharti Ji, disciple of Shri Ashutosh Maharaj Ji explained through her edifying discourse session the importance of human life and the supreme way to lead it. Among all living beings, the human garb is the rarest gift granted by God. One must understand that just eating, drinking, and making merry is not what we are born for. We are human beings with spiritual nature. Human being who is said to be crown of creation is leading a miserable life because he is ignorant of his true self - his soul - that lord almighty - the one who was supposed to be the solitary cause for his birth. This is the sole reason of all the difficulties and fears in our lives. The day a human being will come to know about his real self, all the grief and soreness will cease to exist. The true Self is an abode of infinite bliss, yet we are looking for happiness in temporary things!
Millions of devotees come together at Kumbh Mela to participate in ritualistic bathing and ceremonies to cleanse themselves with the belief that it will absolve them and their ancestors of sin, thus ending the cycle of rebirth. But, our scriptures says that until we realize who we really are, we cannot attain eternal happiness neither we can be free from the vicious circle of life and birth. Only a perfect spiritual mentor of the time can show the correct path of devotion and liberation by revealing to you the secret that is hidden within the cave of your own heart. Through his teachings and guidance he opens your eyes to the reality concerning your existence and unites you with your real Self and brings you the true knowledge that is liberating in itself through the technique of "Brahm Gyan".
The program received gratitude by the guests and visitors. The listeners could be seen totally absorbed in the pure and inspiring aura and it proved to be a spiritual delight for the starving souls.