Kamdhenu is a social initiative by Divya Jyoti Jagrati Sansthan (DJJS). It aims at preservation and improvement of the breed of Indian cows. For several years, DJJS is involved in creating awareness, conducting research, inviting dignitaries (national and international level) and actively working with administration at state and national level for Indian cow preservation and growth.
A few days ago, ex-state minister and Gau Sewa Aayog Chairman of Gujarat visited Nurmahal Ashram along with a delegation from Gujarat. The main objective of the visit was to study conventional system of Gaukrishi (Cow based organic agro-forestry and farming) in different climatic conditions of Haryana and Punjab states. The guests were accorded a warm welcome at the Kamdhenu Gaushala.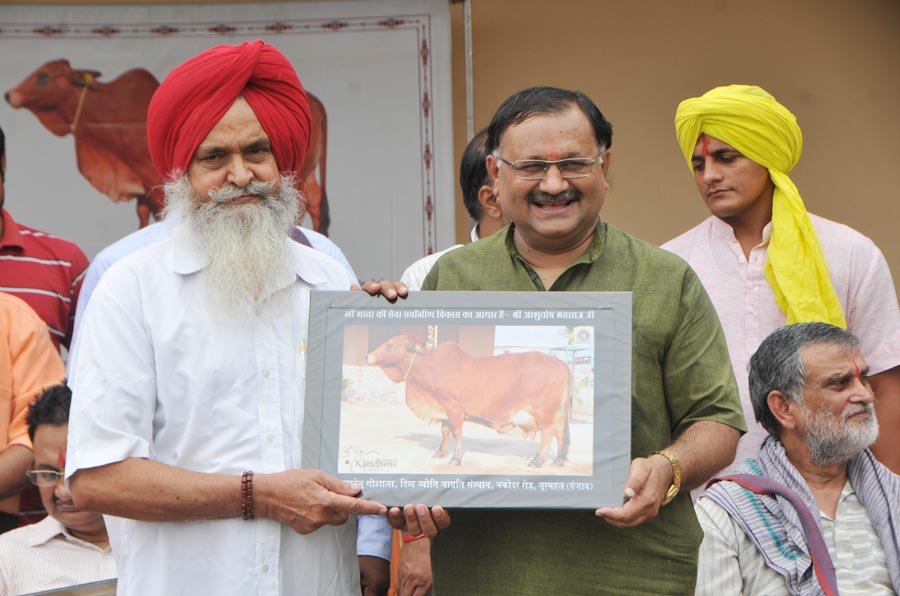 Dignitaries were Dr. Vallabhbhai Kathuria (Chairman Gau Seva Ayog , Gauchar Vikas Board (Govt. of Gujarat) and former minister of State for Health & Family Welfare, HRD, Heavy Industry & PE (Govt. Of India)), Sh. Pardeep Gandhi (ex-Member Of Parliament, Raipur, Chhattisgarh), Dr. Satish Kumar (Chief Scientist, CCMB, Center of Cellular & Molecular Biology, Hyderabad) , Dr. Ran Vir Singh (Senior Scientist, IVRI, Izatnagar, Bareilly) , Sh. K.P. Bhaduria (Military Farm, Gwalior), Brig. (Dr.) R.R. Yadav (Rtd.)
RV Mount Veterinary Corpus of Indian Army, Shri Hariom Tayal (National President : DharmPrasar – VHP, Former : Dy. Chairman, GausevaAyog, Hariyana & Chairman, Panipat Institute of Technical Education, Panipat, Hariyana.), Dr. Kamal Taori (IAS (Rtd.), Economist International Institute for Holistic Research and Voluntary Action (India-Germany), Greater Noida) , Er. Kamal Singh, Dr. Dev Singh Former: Block Pramukh,Hamirpur, (U.P.), Dr. SudhirAgrawal, Kulbir Singh (Karnal), Rameshbhai Rupareliya, Gondal, Gujarat.
All the dignitaries saw Sahiwal cows at Kamdhenu Gaushala and learnt the importance, ways of maintenance and overall management of these breeds. They showed keen interest in the indigenous farming methods used by the Sansthan. The HITKARI KHETI of the Sansthan was appreciated by one and all and everyone shared their experiences. Sh. Sompal Singh Shastri (Former Minister of State for Agriculture & Water Resources, Govt. of India) came from Chandigarh. He gathered information regarding Sahiwal and other indigenous species from Kamdhenu Gaushala. He himself is raising 15 Sahiwal cows at his farm. The whole delegation visited SAM Pharmacy too and were amazed by the quality and variety of home grown products.