Fazika (Punjab) witnessed the spectacle of spirituality as DJJS organized Shrimad Bhagwat Katha Gyan Yagya from 25th – 31st May 2015. The programme started with the grand Shobha Yatra and Mangal Kalash Yatra followed by the recitation of Hymns from Vedas, the most ancient Hindu Scriptures. Devotees and followers from nearby areas gathered in large number for their active participation on this occasion. People gathered together off stage to make the event a grand success by participating in it for 7 days.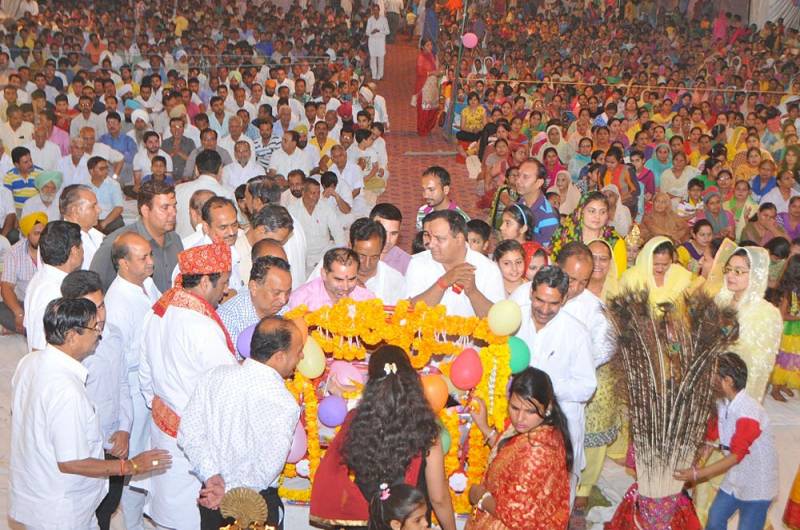 The Bhagavata Purana is one of the oldest Maha Puranic scripture of Hinduism, which focuses on Bhakti to the Supreme Power, the almighty Lord Vishnu. In his spiritual discourses, His Holiness Shri Ashutosh Maharaj Ji often portrays Krishna as a multi-faceted personality, who is Omniscient, Omnipotent & Omnipresent. Nowadays, every human being is losing on its essential human values, bending more towards never-ending desires and somewhere losing the connection with that divine being.
In such circumstances Divya Jyoti Jagrati Sansthan, under the divine guidance of His Holiness Shri Ashutosh Maharaj Ji is putting their conscientious efforts to convey this rich resource of knowledge of the ancient legacy to the masses and infuse in them the inevitable divine endowments via Srimad Bhagwat Kathas – the Spiritual Saga. The Kathas are not merely considered as stories but they have deep rooted meaning and message for the mankind. This meaning can only be explained by somebody who has internalized the meaning themselves and that's what is unique proposition of the Katha conducted by DJJS.
The Katha orator Sadhvi Kalindi Bharti Ji, Disciple of Shri Ashutosh Maharaj Ji flawlessly narrated katha with innumerable shlokas and explained that Every divine act of Lord Krishna is infused with magnificent and thought provoking secrets. Their underlying meanings were relevant not only in that era but also hold infallible significance in today's age. She also explained the purpose behind the recitation of katha that is Braham Gyan (Divine knowledge). It is an eternal technique through which we can practically experience and realise god. All the people were full of emotions; the beautiful bhajans and background music caught the fancy of all the viewers.
She also discussed upon various project undertaken in the guidance of His Holiness Shri Ashutosh Maharaj Ji like Antarkranti, Antardrishti, Sanjeevika, Ayurvedic SAM and Akhand Gyan. The event also included various exhibitions like Antarkranti, Antardrishti, Sanjeevika, Ayurvedic SAM, Akhand Gyan (Monthly Spiritual Magazine), SAM, Bodh, Nari Sashaktikaran, Indian Sanskriti, Santulan, etc.
The devotees were greatly benefitted by listening to the Katha and some of them internalized it after receiving the nectar of Brahm Gyan.