Lord Krishna is an absolute paragon of virtue and a true personification of compassion and kindness. We all are indeed fortunate to have taken birth in the ancient land of Lord Krishna where spirituality and morality upholds higher value than the materialistic possessions of mortal life. Bhagwat Katha intends to unfold the life chapters of Lord Krishna in order to motivate the devotees to steadfast on the spiritual path. The fundamentals of ethics and spirituality embedded in Bhagavad Gita are a perfect guide to understand the basics of life. Bhagwat katha is a medium of exemplifying the theology of Krishna pertinent to Karma, knowledge and devotion. Continuing with its legacy of organizing Bhagwat Katha worldwide, Divya Jyoti Jagrati Sansthan coordinated yet another divine event primarily inspired by His Holiness Ashutosh Maharaj Ji at Ludhiana, Punjab from 22nd April - 28th April 2019. The 7 day holy saga of Shrimad Bhagwat Katha was delivered blissfully by the Katha orator Sadhvi Vaishnavi Bharti JI. A mammoth assembly of spiritual devotees were deeply enlightened and enthralled by Lord Krishna's philosophies and prepositions. The soulful bhajans orchestrated by the disciple-musicians spellbind one and all present in the katha Pandal.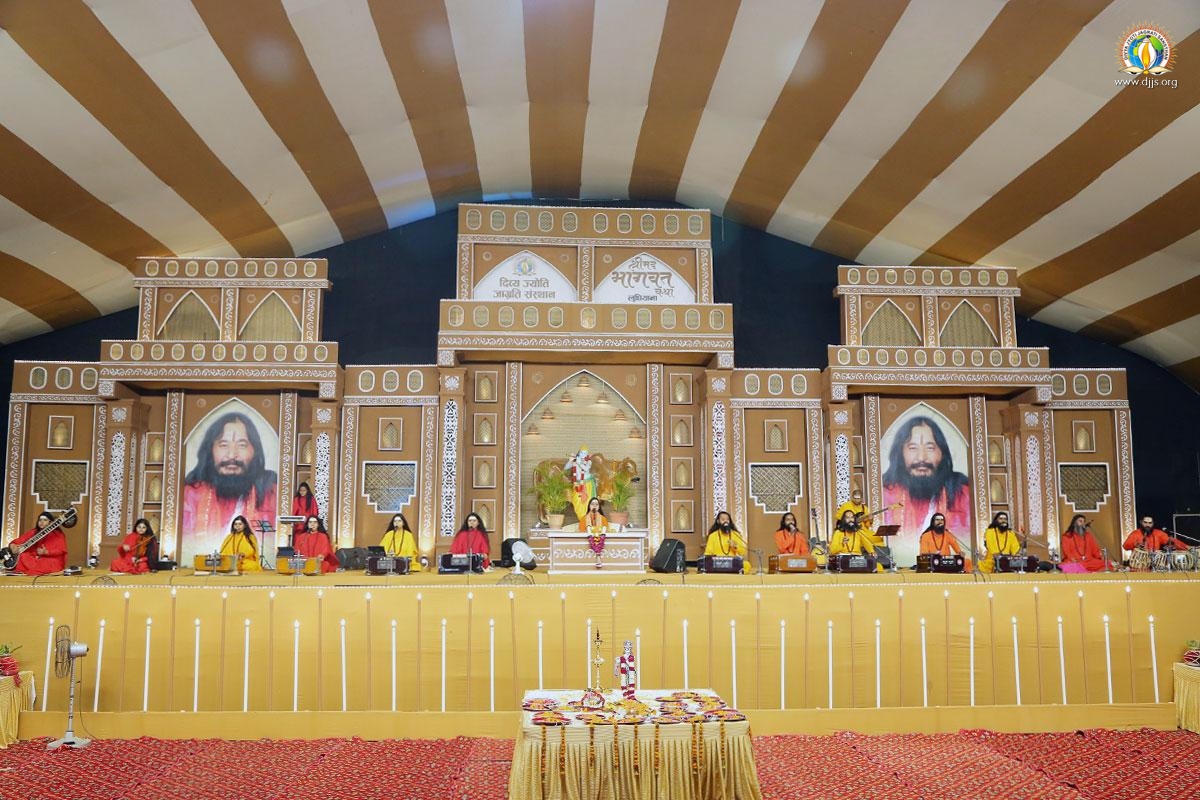 Sadhvi Ji benevolently narrated the nuances of Lord Krishna's mysticism entrenched in our primeval scriptures. The basic understanding of eternal knowledge is attainable by imbibing the pearls of wisdom and righteousness contained in Bhagvad Gita. Sadhvi Ji elucidated that most human beings in the world get mesmerized by reckless desires and ravenousness for materialistic resources. Our misery arises, not from the external world but by getting attached to the sense objects of the mortal world. There is a constant struggle to establish control over the mind and the senses. Self-realization is the only refuge to refrain oneself from worldly vices. The only attachment should be with the Lord and to nobody else. This doctrine of impenetrable knowledge was bestowed upon Arjuna by Lord Krishna at the time of Mahabharata. Lord divulged to Arjuna that he is God descended in human form on the earth and can be known only through spiritual enlightenment.
Sadhvi Ji concluded that in order to connect to Lord Krishna one should practice heedfulness along with sincere prayers to be spiritually adorned by a divine visionary. We too can experience such illimitable grace and celestial experience within us through the supernal tool of Brahm Gyan. Shri Ashutosh Maharaj Ji is a divine mystic who has reinitialized the ancient Indian legacy of Guru-Disciple relationship by promulgating the paramount knowledge of inner self accessible to the surrendered devotees. Only through practical realization of God facilitated by a Supreme Master by opening of the 'Divine Eye', one can become spiritually strong. If an individual is spiritually enlightened then he will be mentally, physically and intellectually vigorous as well. People attending the katha felt immense contentment and joy to have been blessed with divine inspirations and vowed to follow the path of divinity.